Recipes for Savoury Chocolate Dishes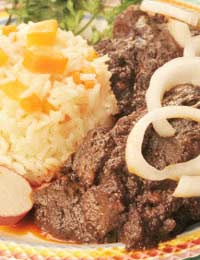 From very ancient times, chocolate has been used as an ingredient in savoury dishes. A warming drink of cocoa and chillies was first enjoyed by the native Mexicans and Aztecs of south America, and was regarded as having aphrodisiac properties.
From South America the cocoa bean was taken first to Spain and it's from those two parts of the world that we have these recipes for savoury chocolate dishes.
The first is for chicken mole (pronounced mo-lay), a traditional Mexican favourite dish. Don't be deterred by the chocolate: you'll be surprised at the effect it has.
Chicken Mole
8 small chicken joints
I garlic clove, peeled and finely sliced
1 onion, peeled and finely sliced
Freshly ground salt and pepper
2 sprigs mint
Sauce
1 garlic clove, peeled and finely chopped
Large tin of tomatoes
1 onion, peeled and finely chopped
4 tablespoons sesame seeds, toasted
1 tablespoon paprika
1 teaspoon ground cumin
½ teaspoon cloves
3 chillies, core and seeds removed and roughly chopped
1 tablespoon olive oil
1 oz dark chocolate, roughly chopped
Place the chicken pieces in a casserole dish. Sprinkle over the garlic, onion and mint. Season and cover with water. Bring to the boil and simmer, covered, for about 30 minutes or until just tender. Remove any scum that floats to the surface. Set aside.
Place the garlic, tomatoes, onion, sesame seeds, spices and chillies in a liquidiser and whizz until you have a smooth puree. Heat the oil in a saucepan and add the puree. Simmer for about 20 minutes. Add the chocolate and stir well. Add the chicken pieces to the pan and stir into the sauce. Add enough of the cooking water to just cover, return to the boil and simmer for another 10 minutes. It may be necessary to add more cooking water to keep the chicken covered.
Serve the sauce-coated chicken, garnished with a sprinkling of coriander, with tortillas or rice, and a green salad.
Authentic mole sauce
Ancho chillies are about 4" long and dark reddy-brown in colour. They're sweet and hot and are traditionally used for mole. They're available in the UK in specialist food shops and delicatessens and via the Internet.
5 dried ancho chillies
1 small onion, peeled and roughly chopped
Olive oil
1 garlic clove, peeled and finely chopped
Cinnamon, cloves, oregano, ground cumin, ground coriander – about ¼ teaspoon of each
2 tablespoons blanched almonds, roughly chopped
2 tomatoes, skin and seeds removed, and roughly chopped
1 tablespoon raisins
1 tablespoon sesame seeds, toasted
Freshly ground salt and pepper
Water
1 oz dark chocolate
Soak the chillies in hot water for about 30 minutes. Meanwhile fry the onion in oil until soft and translucent. Add the garlic and stir fry for another minute. Add the spices and mix well. Remove from the heat.
Place the almonds in a liquidiser along with the cooked onion mixture, raisins, sesame seeds, seasoning and about ½ pint of water. Whizz until smooth.
Take the soaking chillies form the water and remove the cores and seeds. If you have a food mill, pass the chillies through to create a smooth puree. Otherwise push through a mesh strainer to make sure you don't have any tough skins in your sauce.
Blend the chilli paste into the sauce, adding a little more water if necessary to give the mole a coating consistency.
Use this sauce with chicken, turkey, pumpkin stew.
Spanish Stew
1 lb lean braising steak, cubed
1 tablespoon plain flour
8 fl oz robust red wine
4 garlic cloves, peeled and roughly chopped
2 onions, peeled and finely sliced
2 tomatoes, roughly chopped
1 large carrot, peeled and sliced
1 stick celery, chopped
1 leek, washed and finely sliced
1 oz dark chocolate, roughly chopped
¼ teaspoon cinnamon
Freshly ground salt and pepper
¾ pint beef stock
Olive oil for browning
Heat some oil in a large pan and quickly fry the meat to brown and seal. Sprinkle over the flour and add the wine, stirring continuously. Bring to a boil. Add all the vegetables and mix well. Add the chocolate and the beef stock, stir and bring to the boil again. Simmer, covered for about 1½ hours or until the meat is tender. Serve with freshly cooked rice.
CHOCOLATE EXPERT IS FOR SALE.
This website is for sale [more info].
You might also like...