A Chocolate Christmas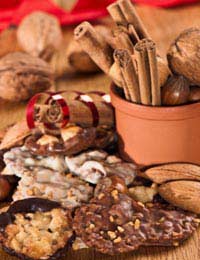 Start the day with steaming, cream-topped mugs of hot chocolate and some of these deliciously spicy sliced sweetmeats.
Festive Breakfast Petit Fours
Base Ingredients
2 egg whites
50 grams self-raising flour
150 grams ground almonds or 75 grams each of almonds and ground hazelnuts for a sweeter base
100 grams icing sugar
Topping Ingredients
500 ml double cream
1 cinnamon stick snapped in three, a small piece of fresh ginger and a nutmeg all tied up in a small piece of muslin
The peel of a large orange
150 grams good dark chocolate
50 grams dried cranberries
Method
Preheat the oven to 180C/gas 4 and while it is heating, oil and line a 15 cm square tin with greaseproof paper. Allow an edge of the paper to hang over two of the sides as this makes it easier to lift the finished dish out of the tin for slicing.
Whisk the egg whites until stiff and then fold in the flour, ground nuts and icing sugar with a large metal spoon. Use the same spoon to transfer the mixture to the tin and press it down with the back of the spoon. Bake for ten minutes and put on a wire tray to cool.
While the base cools, tip the cream, the muslin sachet and orange peel into a saucepan. Bring to the boil and simmer gently for two minutes before leaving to one side to cool. Once it has cooled, sieve or strain to remove the orange peel and the spice sachet.
Melt the chocolate in the microwave in a large bowl and pour the cream on top of it, stirring to mix completely and then add the cranberries. Pour this over the almond base and chill in the fridge to set completely before slicing into small squares. Top each square with a piece of crystallised fruit and dust with a little icing sugar.
Christmas Feasting
The best way to round off your Christmas meal is with chocolate, and this recipe combines the best of the traditional festive pudding with a delicious chocolate twist.
Chocolate Christmas Pudding - Serves 8
Ingredients
125 grams butter
125 grams Muscovado sugar (the darker the better)
2 eggs, lightly beaten
175 grams self raising flour
1 tablespoon cocoa
2 tablespoons milk
3 tablespoons mincemeat
1 cooking apple, minced or grated (or two small Cox's Orange Pippins)
150 grams good plain chocolate, grated
Grated zest of 2 oranges
175 grams fresh white breadcrumbs
Method
Heat oven to 180 degrees C or Gas 4. Cream butter and sugar, gradually beat in the eggs then fold in the flour and cocoa. Gently fold in apple, milk, mincemeat, chocolate, orange zest and breadcrumbs.
Spoon into eight greased and lined pudding tins (for the proper individual pudding look) and put them in a large roasting tin. Pour boiling water into the tin until it reaches halfway up the sides of the small dishes, cover the whole thing with foil and cook for 45 minutes.
If you want to make the puddings in advance, they keep for a week or so in the fridge, and you can reheat them as above, using the roasting dish as a bain marie, but only cooking for about 15 minutes.
You might also like...