Quiz: Are You A Chocolate Addict?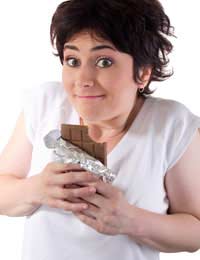 A recent study in the European Journal of Neuroscience suggests that there may be some similarities between the brains of drug addicts and the brains of those who over-consume chocolate.
The research was conducted by scientists at Oxford University, and used MRI scanners to examine the different brainwaves of people who crave chocolate and those who don't. What the research found was that, in those who crave chocolate, there are levels of activity in areas of the brain very similar to the patterns shown by hard drug addicts when exposed to their drug of choice.
The researchers conclude that these distinctive patterns will lead to better understanding of how people respond to certain foods, what causes cravings, and how the craving can trigger binge-eating and obsession with a certain food.
Are You A Chocolate Addict?
The study shows that there may soon be a clinical diagnosis for chocolate addiction, but as yet there is no definitive test for the condition or even agreement on whether chocolate addiction is a different kind of addiction to other eating disorders. However, anecdotal evidence suggests that there are individuals who become obsessed by and dependant upon chocolate.
Take The Chocolate Addiction Quiz
You've had a bad day and when you get home, the house is empty. Do you?
Pour a glass of wine and put your favourite music on the stereo (score 2).
Ring a friend to talk over your rotten day while you snack on a savoury treat (score 3).
Open a bar of chocolate and eat it all (score 4).
You're doing the weekly grocery shop, and you drift into the chocolate and sweet aisle of the supermarket. How do you proceed?
Grab the items on your list and continue with your shopping (score 2).
Put the list items in your trolley, then have a quick browse to see if there's anything new or special you want to add to your shopping (score 3).
Head out of the aisle because you want to come back once you have finished shopping to really focus on which chocolate to buy (score 4)
It's nearly Easter and you know that you're going to get a luxury egg from your loved one. As the days to the 'big day' approach, what is your response to the chocolate advertising that is everywhere?
You only look at the images that really appeal to you, and sometimes you're amazed at how much people will pay for a hollow chocolate egg (score 2).
You find it annoying that so much space is being given to promoting once-a-year chocolate shopping, and that the shops are full of tacky chocolates in foil wrappers (score 3).
You really struggle with the constant bombardment of images and TV adverts, and feel that people are assessing your response to the various adverts and watching you as you look at the displays (score 4).
Have you ever bought chocolate and stockpiled it because you were expecting to have a row at work or to split up with a boyfriend or girlfriend?
Never – if there's chocolate in the house you might eat it, but anything serves to distract you and comfort you, it doesn't have to be cocoa-based (score 2).
Not so far. Actually you hadn't thought about that, but now it's been suggested you think it could be a pretty good idea (score 3).
Yes – it's a pattern that you've learned. Sometimes if you predict a crisis and it doesn't happen, you eat the chocolate anyway and then buy more (score 4).
What Does Your Score Mean?
Score 8-10: You really don't have an issue with chocolate. You enjoy it but it doesn't possess your thinking and emotions.
Score 11-13: It may be the case that you're heading towards a dependence on certain favourite foods. Keep track of your eating for a couple of weeks because you may be surprised by how much chocolate you actually consume.
Score over 14: You may be on the way to, or in the grip of, chocolate addiction. If you are happy with the relationship you have with chocolate, then this is okay. But if you ever feel guilty, frustrated or secretive about the chocolate you buy, it may be time to get some help such as hypnosis, counselling about addiction, or joining a support group.
You might also like...