Chocolate News: What's New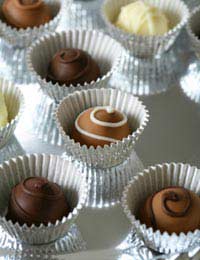 Chocolate is the ultimate comfort food, and we tend to think of it as being timeless, but chocolate manufacturers devote large budgets to updating everything about their products. Here's a round-up of what's new in the world of chocolate.
Wrappers For Chilled Chocolate
Kraft Foods, the massive US conglomerate that recently took over Cadbury's has launched a new quest, to find a new way to wrap chocolate. They are seeking to minimise melting of their chocolate products by finding a novel insulating material. While Kraft has its own research and development arm, it's looking for external partners to help it develop a high technology system that will keep milk chocolate cool up to temperatures of 40C and could therefore change the face of chocolate consumption forever – no more sticky mouths and chocolate-stained fingers, and many well-chilled chocolate feasts at the park and on the beach.
It's not just customer comfort that is driving Kraft to innovate – when the company changed Milka chocolate bars from the classic tinfoil wrapper inside a paper sleeve to the current plastic crimped envelope it reduced packing weight and volume enough to remove around 2,600 tonnes from the company's carbon footprint which reduces costs and environmental impact. Improving the portability of chocolate has become important to manufacturers who are seeing market share cut by other sweet products that are easier to transport and have stronger nutritional claims such as dried fruit bars.
Lower Fat Without Less Taste
Meanwhile Mars has decided to go all out to with lower-fat chocolate bars. The new Mars, Snickers, Milky Way and Topics which will be launched in the next few weeks each have 15% less saturated fat than their predecessors. It's taken Mars half a decade and £9 million to get the new versions of classic chocolates to taste 'exactly the same' as the original. The good news is that the newer versions will cut 600 tons of saturated fat from the annual diet of British chocolate lovers.
Mars are rumoured to be rolling out some high-profile celebrities to support the lower fat chocolates in a promotional campaign too, but who those stars are is strictly under wraps. It's said that they may have an iconic rock legend signed up to advertise one of the new bars, and that a celebrity dance star may also be featured in the campaign.
Cadbury Coffee Houses?
Cadbury have a new idea in development, the launching of around sixty outlets, currently entitled Cadbury Cocoa Houses to serve hot chocolate, tea and chocolate gifts in locations around the UK.
A Cadbury spokesman described the project as 'exciting' but still being '… at the concept stage' without current agreement on content, location or design. However, there was a signed agreement to open Cadbury-branded retail outlets in January 2010, just before Kraft took over Cadbury's and it seems that Kraft have said the scheme can continue, although they aren't providing the finance. That's being put up by a consortium of entrepreneurs including a former director of the Harrods Food & Restaurants business.
The success of chain coffee houses has led Cadbury's to try and convert some of its iconic status into spearheading an attack on the high street monopoly of hot drinks by the caffeine selling cafes. It hopes to provide hot and cold cocoa-based drinks, sweet foods and gift chocolate items and novelties which will not be available through other retail outlets.
You might also like...