Chocolate Gifts to Make and Give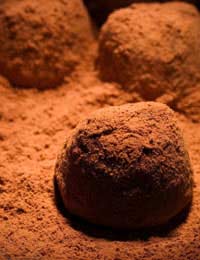 Chocolate gifts can range from the simple to the sophisticated and making your own gifts brings a wonderful personal touch.
Chocolate Spoons
This simple gift is an ideal one to prepare for Christmas, Easter or even Valentine's Day.
You need:
300 grams chocolate bars or chips – white, milk or dark, whichever you like but not containing nuts or other ingredients which make it difficult to melt the chocolate
1 tablespoon unsalted butter
Chopped nuts, chopped dried fruit, cake topping decorations, cocoa powder, icing sugar and small sweets, again, whatever you like that looks pretty.
Plastic teaspoons
Greaseproof paper
Coloured cellophane or plastic wrapping paper
Ribbon
Method
Put the chocolate in a heatproof container like a large plastic jug – you need quite a deep container for this to work well. Microwave at medium power for a minute or so, stirring regularly to ensure the chocolate is fully melted but not over-cooked or it will scorch.
Add the butter and stir until mixed, but do not overstir or you run the risk of de-emulsifying the chocolate.
Now dip each spoon in the chocolate to ensure that the bowl of the spoon is completely filled and the chocolate rises to about an inch up the handle. Put down on greaseproof paper and decorate with chopped nuts or fruit, a sprinkle of cake decorations or a few sweets. Leave to set.
When the chocolate has fully hardened, wrap each spoon in a small square of coloured cellophane or wrapping plastic and tie, above the level of the chocolate, with some pretty ribbon.
These spoons can be given alone as a gift, or you can turn them upside down in a bright coffee mug to make a dramatically pretty gift, or simply tie one to a bag of ground coffee as a personalised present for a friend who loves good coffee.
Chocolate Apples
Nothing could be simpler than chocolate apples.
6 Granny Smith apples, washed and dried
Wooden skewers – try to get the square, rather than round ones, as they work better or even cheap wooden chopsticks
1 large bar dark chocolate
Chopped nuts
Melt the chocolate in a double boiler or a glass bowl over a saucepan of simmering water and insert the skewers into the stalk end of the apples.
Dip the apples one at a time – you may need to spoon a little chocolate up the sides of the apple as it can be rather difficult to get the chocolate into a deep enough container to simply dip them.
Roll the top of the apple in the chopped nuts and set them on greaseproof paper to set.Best kept at room temperature – do not chill or the chocolate will 'bloom' and become pale – and eaten within 48 hours.
Simply Sophisticated Truffles
This recipe couldn't easier to make, but tastes utterly sophisticated – it makes sixty truffles, so it's a good idea to have enough toppings/coatings to vary the taste.
Ingredients
200 grams cream cheese at room temperature
350 grams icing sugar
500 grams plain chocolate, at least 70% cocoa solids
1 teaspoon vanilla
Method
In a large bowl, beat the softened cheese until it is smooth.
Melt the chocolate in a microwave or double boiler until liquid. Set aside while you beat the icing sugar into the cheese and then stir the vanilla into the chocolate and the combined mixture in to the cheese until it is fully combined.
Refrigerate for around a hour. Remove from the fridge and shape into 2.5 cm balls – placing them on sheets of greaseproof paper. If your hands get too hot as you work, run cold water over them.
Divide into four groups of 15 and roll some in chopped nuts, some in icing sugar, some in cocoa etc.
You can also flavour them differently – omit the vanilla and instead divide in four at the mixing stage, add a teaspoon of orange liqueur to one quarter, amaretto to another quarter, a teaspoon of brandy to the third quarter and strong cold coffee or coffee liqueur to the final quarter then proceed as previously. You can also press a hazelnut into the amaretto topped ones, and a sliver of candied peel into the orange liqueur ones to add to the attractive appearance.
These truffles keep for about five days at room temperature.
You might also like...