Healthy Chocolate Treats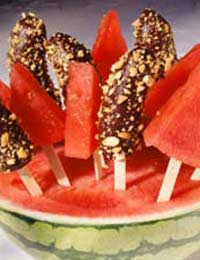 So we now know that dark chocolate is good for us because it offers some antioxidants, health-boosting catechins and mood-changing compounds that trigger the feel-good factor on our brains. But there's no getting away from the fact that chocolate, as it is commercially produced for mainstream consumption, is high in sugar and fats.
Chocolate can be made into a healthy treat in three ways – by eating the right chocolate, by eating the right quantities and by eating it in the right way.
The Best Chocolate
The darker the chocolate, the more likely it is to be high in cocoa solids. The best chocolate is around 70-76% pure cocoa solids, but this gives it a distinctive bittersweet taste that doesn't appeal to everyone. Children, in particular, find dark chocolate more challenging than the gentler flavours of less cocoa-rich blends. However, it's the cocoa solids that contain all the antioxidant compounds, so if you are going to eat chocolate, it's best to aim for a variety that is 70% cocoa solids or above.
If you find that kind of chocolate too bitter, try eating it with a glass of hot milk, which can blunt the bitter flavour, or by melting the chocolate in the milk to create an intensely flavoured hot chocolate drink.
The Right Quantities
There's no hard and fast rule on this. Many authorities say 'a single square' of good quality chocolate daily can't do you any harm and may be beneficial. But squares vary in size from small to huge, so a rule of thumb is to say that between 7 and 14 grams of good quality chocolate is a sensible daily amount. Obviously, if you only eat chocolate once a week, you can eat several days' amount at once!
Banana Chocsicles
This recipe gives you around 7-10 grams of chocolate a serving, so it falls within your daily 'good' chocolate allocation.
What You'll Need
30 grams desiccated coconut
20 grams honey
50 grams 70% dark chocolate, melted
1 tablespoon skimmed milk
1 tablespoon smooth peanut butter, tahini or almond butter
4 bananas
How To Make Your Chocsicles
Peel bananas and cut in half crossways. Then add honey and peanut butter to melted chocolate and stir well to blend before adding milk.
Pour coconut onto a shallow plate. Insert a holder into the thick end of each banana. You can use lollipop sticks, or if you don't have any, try wooden barbecue skewers, sweetcorn holders or even teaspoon handles.
Using the holder, dip the banana into the melted chocolate mixture, coating it to about half the depth, before standing it up so that the thick sauce coats the rest of the banana as it runs down.
Hold the banana over the plate of coconut and sprinkle over the sauce with one hand as you turn the holder with the other. Put the banana in a shallow plastic tray or on greaseproof paper lined baking tray. By the time you get to the last of the bananas you will have to scoop up the sauce and pour it over using a spoon.
When all are done, put the container in the freezer for four hours before serving.
These bananas can be a delicious breakfast treat for children who don't like to eat in the mornings. If your little ones aren't keen on coconut, try rolling them in finely chopped hazelnuts or walnuts, sesame seeds or even whole grain oats.
Super Chocolate Health Mix
Manufactured little packets of snacking berries and nuts are popular, delicious and healthy, but they aren't normally chocolaty – this recipe changes that! Use the same cup to measure all the ingredients to get the right proportions
You Will Need
1 cup of sour cherries, goji berries, golden raisins, diced apricots or cranberries
1 cup of cacao nibs (from good health food stores or by mail order or from online raw food retailers)
1 cup of sunflower, pumpkin seeds or pine nuts
1 cup of cashews, unblanched almonds or walnut halves
How To Make
Place all the ingredients in a lidded container and shake well together. This treat can be used in a number of ways:
Sprinkle a heaped spoonful onto yoghurt for a delicious and antioxidant and fibre-rich breakfast.
Add to muesli or breakfast cereals to give variety and flavour.
Pour a large spoonful into a hot rice pudding and stir to give a ripple effect.
Put into small containers and add to packed lunches as a mid-morning or afternoon treat.
You might also like...