Chocolate and Liqueur Recipes for Grown Ups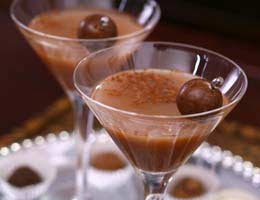 One of the nicest things about becoming a 'grown up' is the ability to enjoy alcohol in recipes, and these two decadent suggestions will make any dinner party a talking point for months to come.
Chocolate Orange Martini Greeters
Chocolate and orange are a classic combination and added to this vodka martini they produce a zesty treat. The good thing about this cocktail is that the preparation can be done well in advance so that your guests arrive to a deliciously different drink without you having to break off from kitchen duties for more than a couple of minutes. You can choose from Cointreau or Grand Mariner for the liqueur or even some of the generic 'orange brandy' or 'mandarin liqueur' type bottles you find on supermarket shelves. It can also be made with peach schnapps.
Ingredients
Half a bar of good bitter chocolate
30 ml vodka
15 ml white crème de cacao
A dash of Cointreau or Grand Mariner or other orange-based liqueur
Method
Melt the chocolate in a heat-proof bowl and pour out into a shallow dish. Dip the rim of your martini glasses, twisting sharply to stop the chocolate running down the glass and stand upright.
Allow to set and then chill the glasses.
Shake all other ingredients with ice in a cocktail shaker and strain into the prepared glasses.
Liqueur Cheesecake
This deliciously decadent recipe can be made using a range of liqueurs from Baileys to Tia Maria, to any fruit-based liqueur, and you can vary the decoration that you use to match the nature of the liqueur that you've chosen.
Base
85 grams butter
14 plain chocolate digestive biscuits crushed in a plastic bag with a rolling pin
Filling
900 grams cream cheese
200 grams caster sugar
4 tablespoons plain flour
1 teaspoon vanilla extract
4 tablespoons liqueur of choice
3 eggs
300 ml sour cream or crème fraiche
Topping
150 ml soured cream
2 tablespoons liqueur
Cocoa
Method
Heat oven to 180ºC or gas 4. Line the base of a 25cm spring-form tin with greaseproof paper. Melt the butter and blend with the biscuit crumbs before pressing into the base of the tin, bake for 10 minutes and set aside to cool.
Increase the oven temperature to 240ºC or gas 9.
Beat the cheese and sugar together until smooth and then beat in the flour, vanilla, the liqueur and the eggs beaten with the sour cream or crème fraiche.
Use a little extra butter to grease the sides of the tin before pouring in the topping mixture and smoothing the top evenly with a spatula. Bake for ten minutes before lowering oven temperature to 110ºC or gas ¼ for a further 25 minutes.
Turn off the oven, then open the door and leave the cheesecake to cool inside the oven for at least two hours. The top may crack a little but don't worry about this.
Two hours before serving, blend together the soured cream and liqueur of choice and smooth it over the top of the cheesecake and refrigerate.
To serve, dust the top of the cheesecake with cocoa and then mark into eight or sixteen portions using a knife to indent the topping – decorate every other portion with a chocolate curl before carefully removing the cheesecake from the tin and placing it on a pretty serving plate.
You might also like...