About Cocoa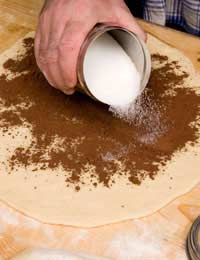 Cocoa is used in recipes such as chocolate cake icing and even mixed with sugar and hot milk to make a delicious chocolaty drink. Cocoa is a fine powder with a slightly bitter, rich chocolaty taste. It is naturally acidic. When using cocoa in recipes you don't need to add a large amount; just a little adds plenty of chocolate flavour to a recipe.
Cocoa is simply chocolate liquor with the cocoa butter removed. Despite its name, chocolate liquor contains no alcohol. It is made from the dried and roasted cocoa bean. After roasting, the nib (or centre) of the bean is finely ground to form a smooth liquid. This liquid is made up of cocoa butter and cocoa mass. It is quite bitter to taste as it has had no added sugar; essentially chocolate liquor is chocolate in its purest form.
Cocoa Powder
Cocoa powder is used to flavour a variety of products, such as biscuits, ice cream, dairy drinks and cakes. Cocoa powder is also used by the beverage industry for example to make chocolate milk and hot chocolate recipes. Cocoa powder can also be used as a garnish, for example you can sprinkle it over cakes or ice cream to put the finishing touches to a delicious recipe.
Cocoa Butter
Cocoa butter is an essential ingredient in the process of making chocolate. Cocoa butter gives chocolate its rich, smooth consistency. Apart from the traditional uses in chocolate manufacture and confectionery, cocoa butter is also used in the manufacturing process of tobacco, soap and cosmetics. It is also a popular remedy if applied topically for burns, dry lips, fever, malaria, rheumatism, snakebite and wounds.
Cooking with Cocoa Powder
There are two types of cocoa commercially available to use in cooking. These are natural (nonalkalinised) cocoa and Dutch Process (alkalinised) cocoa. Natural cocoa powder (also called unsweetened cocoa) is simply untreated cocoa powder; it is rarely labelled as natural on the packet, and is normally just called 'cocoa'. If a recipe calls for cocoa, use natural cocoa.Dutch Process cocoa (developed by the Dutch) is treated with an alkali to reduce its harshness and acidity. This also gives the cocoa a rich dark appetising colour, a light, toasted flavour, and slight hint of coffee. Dutch Process cocoa is excellent in drinks.Because Dutch Process cocoa is more alkaline, it can alter the chemistry in a recipe, as it reacts differently with other ingredients than natural cocoa.
Tips for Using Cocoa
Use a little at a time as its flavour can be quite intense.
Store cocoa away from herbs and spices and other aromatic substances, as it can pick up other flavours and moisture easily.
Cocoa is the refined powder that's left over after the cocoa fat has been removed from chocolate liquor. It is most commonly used in recipes such as cakes and icing, and chocolate drinks such as hot chocolate and chocolate milk. Cocoa can also be used as a garnish, sprinkled over a dish. Cocoa should be kept away from other spices and sealed in an airtight container as it can absorb other flavours and moisture easily.
You might also like...