About Milk Chocolate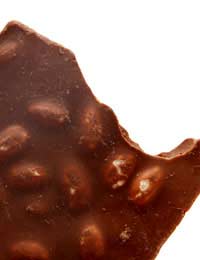 Milk chocolate is chocolate with milk powder or condensed milk added. The EU regulations specify a minimum of 25% cocoa solids should be present in milk chocolate. However in the United States milk chocolate only needs to have a 10% concentration of chocolate liquor to be classified as milk chocolate.
Much of the milk chocolate consumed on a daily basis today is made into bars that are made up from cocoa solids milk powder, fats such as cocoa butter (but also vegetable and hydrogenated fats), and sugar or sweetener.
Milk chocolate is primarily eaten as a chocolate bar, in a variety of shapes, sizes and flavours. However, it can also be used in some desserts, pastries and confections. Milk chocolate is very heat sensitive because of its high sugar content; therefore it is mostly unsuitable for use in baking (it can change the consistency and texture of the finished product). It's important not to substitute semi-sweet or bittersweet chocolate with milk chocolate as this can ruin the recipe.
Milk Chocolate Over the World
Milk chocolate has become one of the most popular flavours in the world. It is often a feature at parties, celebrations and events and is given as a gift at times such as Christmas and St. Valentine's Day. Gifts of foil-wrapped chocolate moulded into different shapes have become traditional on certain holidays: chocolate bunnies and eggs are popular on Easter, coins on Hanukkah, Santa Claus and other holiday symbols on Christmas, and hearts on St. Valentine's Day. Chocolate is also used in cold and hot beverages, to produce chocolate milk and hot chocolate.
Quality Milk Chocolate
The quality of milk chocolate varies from brand to brand. Because of the higher minimum cocoa solids content required by the European Union, European milk chocolate brands tend to produce chocolate bars of a higher quality. This is because the percentage of cocoa solids relates directly to the quality of the chocolate. The less cocoa solids used, the more fat and sugar is added to compensate for the reduced flavour. If you're looking to buy a good quality milk chocolate, use the following tips to ensure you get the right milk chocolate for you:
Look out for brands that contain pure ingredients with no added artificial flavourings.
European milk chocolate generally contains condensed milk, however American and British milk chocolate contains a mixture of milk and sugar.
Milk chocolate should have a smooth texture when eaten and leave no greasy residue. It should melt in the mouth and have a pleasant, almost tangy after taste.
A good quality chocolate has a nice chocolaty smell and a smooth and glossy unblemished appearance. The taste should have no hint of artificial chemicals and should be smooth and velvety, not grainy in texture.
Milk chocolate will keep up to a year if stored in a cool dry place.
Milk chocolate is one of the world's favourite confectionaries. It is mainly consumed as a chocolate bar in its own right but can also be used in cake decorating and some types of baking. However, because of its high sugar content, milk chocolate should not be used in baking unless it is expressly specified in the recipe a it can alter the finished product.
You might also like...