The World's Most Expensive Chocolates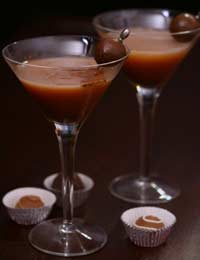 There are some chocolates who give 'expensive' a whole new meaning. Some don't travel – like vintage wines you have go where they are produced to obtain them; others come only as part of a very expensive package - so you pay over the odds to get the delicious morsel; and some are just plain costly.
Chocolate Wine
This drink actually originated in the 1700s when it was made by whisking claret with pounded sugar and chocolate. Small boys would be employed to whisk the drink, in large copper basins that had wire mesh over them, with holes for the boys' arms. This was to stop the little lads drinking the resulting frothy treat! Today chocolate wine has been reinvented by 'molecular chef' Heston Blumenthal who serves it at his restaurant Fat Duck. Rather than small boys, he employs a centrifuge to separate out the cocoa solids from the fat, using only the solids and beating them with a red dessert wine and sugar. The wine alone is £50 a bottle, but to experience the drink, you have to reserve a table at the restaurant where bookings are made up to two years in advance …
Boutique Chocolate
The claim made by the Richart chocolate house, based in Lyons, France, is that walking into a Richart boutique may lead you to think you've stepped into an art gallery by mistake. As they put it, "Design is a critical component of the Richart experience. Each chocolate collection, its packaging and the gallery-like setting in which it is sold has been planned… so that the eye is drawn automatically to the main attraction - the finest French chocolate."
There are elegant boutiques selling the chocolates in many places: France, Spain, Italy, Japan, Korea and the United States – none in the UK though, reputedly because the Richart family believe the British palate for chocolate to be 'undeveloped'. You can buy online though.
While the lower end of the Richart range is actually well within most people's price range at around $25 or about £12 for a small box of chocolates, it's the top of the line chocolate designs that entitle the chocolatier to be classed as 'most expensive'. How about seven drawers of chocolate, delivered in a humidity-controlled wooden 'vault'? That's the Petits Richart experience and it will only set you back around £400 … plus delivery!
Precious Chocolate
DeLafee is not actually a chocolatier, although it's based in Switzerland. It's a gold house, so as well as producing chocolates decorated with edible gold, DeLafee offers gold-wrapped cigars, sparkling wine with real gold bubbles, and even tea with gold flakes. But it's the golden pralines that make their luxury chocolate an entry into the 'most expensive' list. The chocolate itself is classed as a 'grand cru', imported from Ecuador before being blended in Switzerland and tipped with DeLafee gold leaf to create a unique sensual experience – edible golden chocolate. At around £8 per individual chocolate, it's definitely a choice for those who believe that money is no object!
Chocolate Fountain
Yes, we've all had a chocolate fountain or two. But not like this – the 27 foot tall, glass-contained feature is part of the Bellagio, Las Vegas. It's the biggest, and most expensive, chocolate fountain in the world and it was designed by Jean-Philippe Maury, one of the best known patissiers working in the USA. More than a thousand kilos of three different kinds of chocolate: milk, white and dark, travel through the fountain daily, constantly being regathered in holding tanks to recirculate through the system which features 25 suspended glass globes that hold chocolate, each of which was hand-made by glass artist Michel Mailho.
The whole experience of movement, fragrance and colour is contained within a huge funnel of thick glass panels. The chocolate is heated to 49 degrees Celsius and pumped by six pumps to the top of the fountain where it falls the full 27 feet in complex arcs that keep the chocolate fluid.
Echoing the pattern of the dancing fountains outside, the chocolate fountain is an experience available only to guests at the Bellagio, so to see it you have to go to Vegas!
Most Expensive Chocolate
All of these fade into the background, compared to the signature chocolate produced by Fritz Knipschildt, master chocolatier. At £125 for a single chocolate, his dark chocolate truffle (which contains an actual black truffle from France) is the world's rarest and most expensive treat – in fact you have to pre-order it, around 7 months in advance.
You might also like...