All About Italian Chocolate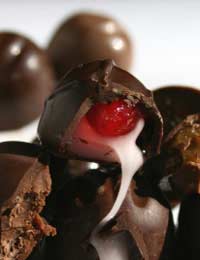 Warning: if you're a chocoholic, this article will send you off to book an Italian trip. Italy is a world-famous chocolate destination. The home of Gianduja and Gelato has much to offer the contemporary chocophile…
Italian Favourites
Gianduja is an Italian classic that's now exported all over the world. Created in 1856 by Caffarel, Turin's oldest chocolatier, Gianduja is a paste of hazelnut and chocolate, usually shaped in a triangle.
Traditionally, the finest Gianduja is made with Piedmontese hazelnuts. Other Italian specialities include the Alpino (liqueur-filled chocolates), Baci kisses (Barbero's dark chocolate studded with hazelnuts), and Gelato al Gianduia (Gianduja ice-cream).
Hot chocolate in Italy is taken very seriously indeed. No watery brown froth here: order a hot chocolate and you'll be presented with a small cup of chocolate thick enough to stand up a spoon in. To sample it without stepping on a plane, visit one of Antonio Carluccio's restaurants in the UK and ask for a cup of hot chocolate, Florentine style.
In Turin, a local speciality is the Bicerin, a variation on hot chocolate blended with coffee and milk; this gained world fame when it was mentioned in the novel 'The Three Musketeers'!
Gelato also plays a very important role in the Italian food industry; here, ice-cream is light and grown-up, and available in lots of flavours – many featuring chocolate and/or hazelnuts.
Finding & Using Italian Chocolate
If you're devoted to chocolate, consider a trip to Italy. Turin is the country's chocolate capital, with a dedicated Chocolate Festival (Turin Cioccolato) in February/ March every year. Exhibitions designed to demonstrate the chocolate-making process run alongside contemporary chef demonstrations of recipes like roasted venison with cocoa.
You can buy a tasting pass which gives you entry to events run by many of Turin's master chocolatiers – and the opportunity to taste all kinds of chocolate creations, from Austrian sachertorte to Turin's own Torta Sabauda. Be sure to visit chocolatiers Gertosio, Caffarel, and Ferrero.
If you're not planning a trip, you'll easily find suppliers online. Spazio Italia imports and sells Italian produce, including chocolate and Gianduja Cream – perfect for whipping with double cream and rolling into truffles.
Is your mouth watering yet? Try recreating a taste of Italy at home. This easy tiramisu is made from store cupboard and freezer ingredients:
Chocolate Tiramisu Ice-Cream Cake
Make this easy version of Tiramisu – with genuine Italian chocolate – for a rich and cool summer dessert.
1 tub (500g) Coffee or Espresso Ice-cream.
1 packet (200g) Italian sponge fingers.
50ml cold espresso.
50ml Tia Maria liqueur.
1 bar Italian chocolate.
Line a small loaf tin with cling-film and set aside. In a shallow bowl, spread out the sponge fingers, then pour over the espresso and liqueur and leave to soak for ten minutes, then lift out and leave to dry a little on a wire rack. Put the ice-cream into the same bowl and beat it to blend with any remaining liqueur; keep beating until it's softened enough to spread.
Now assemble the loaf: start with a layer of sponge fingers, leaving them hanging over the edge of the tin (so you can fold them over later on). Spoon in half of the ice-cream and cover this with a layer of chocolate shavings. Follow with the remaining ice-cream and chocolate, and then fold over the sponge. Freeze. To serve, bring out of the freezer and allow to soften for 15 minutes. Turn the cake onto a plate and scatter with more chocolate to serve. <.p>
You might also like...