About Latvian Chocolate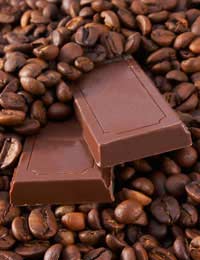 Latvia is renowned for heart-attack food. Meat stews and dumplings, pancakes with sour cream, heavy breads and lots and lots of buttered cabbage. Part of this legacy comes from Russia, the country that occupied Latvia and its neighbours for more than 50 years. Russian vodka is still a popular import.
What Latvians have always excelled in, however, is sweet stuff. Sugary pastries, honey cake, torte and – time to get serious – chocolate. This is a nation with sophisticated tastes when it comes to the cocoa bean: expect bittersweet surprises and – for now at least – cheap prices. What more reason could a chocoholic have for booking a quick trip to the Baltic?
Latvia's Chocolate Factory
Laima is the Cadbury's of Latvia – a long-established chocolate-maker with family values and a characteristically sweet, dark brand of chocolate. It's even more important because it went through nationalisation and privatisation with its country.
Founded in 1870 by an ambitious chocolate-maker, Laima quickly built up a good reputation. When Russia took occupation of the country in the 1930s (and, possibly, discovered how delicious Laima's chocolate was), the company was nationalised, but when Latvia gained independence in 1991, Laima went private once more.
Today, Laima is still a national favourite and the factory is a source of great pride for Latvians. The company is often involved in national matters – it created a 36kg chocolate bear as a gift for Estonia after a Latvian bear (a real one) had swum across to find a new home. And the national Freedom Monument in Riga is built close by to Laima's earlier Clock Tower: the two stand together, a symbol of Latvia's hard-won independence.
So what does Laima chocolate taste like? The best way to find out is by visiting Riga – where Laima's 100-year-old Chocolate Factory is open for tours. There's a reason this factory exports to more than twenty countries, including former leaders in Russia. Look out for 'Serenade' chocolate, the oldest and best-guarded Laima recipe – and, to bring home, Prozit boxes containing solid chocolate bottles filled with liqueur.
Independent Chocolate Making
Emihls Gustavs Shokolahde (Marijas 13, in the Berga Bazars) is a quaint chocolate cafe in the heart of Riga. You can see the staff baking, melting, and drizzling chocolate as they work quietly behind a glass window at the back of the shop. Counters are heaving with enormous chocolate cakes and stands filled with truffles and liqueurs. Then there's Emihls Gustavs's hot chocolate, which stands in silvery vats, ready to be ladled out for customers.
This dark, dense liquid chocolate is a far cry from an instant hot-choc in a British cafe. Drunk in small cups alongside wedges of cake, it's a treat that female office-workers and tourists alike flock to try every day. In fact Time Out rates this hot chocolate among the world's finest, listing it as one of the best in London (you can sample it at Cake Therapy on Shaftesbury Avenue).
If you're already drooling to try some, there's good news. Latvia's first lady in chocolaterie is expanding – bringing the unique, 1930s-style boutique cafe to a wider audience – and currently looking for world partners. Let's hope we get our first shipments in Britain very, very soon...
You might also like...
I work at a Hostel in San Francisco California (USA), Today a guest gave me and my wife a candy bar from LIETUVA. Now I have to say that we have " Ghirardelli's chocolate out here and I have ALWAYS love our chocolate... But after having Lietuva chocolate... I will never think we have the best.. I thank our guest for giving it to use, but now I am upset that to get the best chocolate, I have to go to Lietuva...lol
carloss
- 21-Oct-13 @ 11:37 PM