Sourcing and Using French Chocolate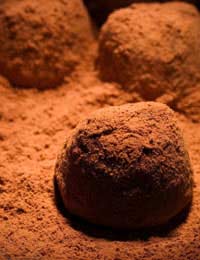 France has long been famous for its pastry chefs, but did you know about the artisan chocolatiers hidden in the valleys? Tucked away in the midst of the wine-making regions, these experts are busy creating gourmet chocolate for locals and visitors. Want to discover the secrets of French chocolate? Read on.
About French Chocolate
Valrhona is probably the most well-known French brand, and it's an wonderful gourmet chocolate for couverture and baking. Developed in the early 1920s by French pastry chef M. Guironnet, Valrhona has established and maintained a very prestigious reputation. Its focus has always been on the cocoa – the buyer at Valrhona works closely with cocoa plantations all over the world, producing 'vintage' and single-estate chocolate.
Valrhona was one of the first chocolate producers to state cocoa content (70% for dark chocolate) on its wrappers. You can buy Valrhona from online retailers.
But before Valrhona, there was Bonnat. This small family company was started in 1884, and made a name for its pralines, which were popular with visitors and travellers. Their shop – still in Voiron, where the founder started creating chocolate – is run by the fourth generation of Bonnats, and is today a place of pilgrimage for Bonnat devotees.
The company imports cocoa beans from Africa, Madagascar, and South America, then roasts and grinds them in France, producing the country's only 'own-roasted' cocoa.
Newcomer to the French chocolate industry, Bernard Castelain has very quickly made a name for his innovative chocolate style. He is based in the Chateauneuf du Pape region, and one of his specialities is a truffle flavoured with Chateauneuf brandy. His range of chocolate bars has lots to interest to amateur gourmet, and do very well in blind tastings.
Salon Du Chocolat & The French Acedemy of Chocolate
If you have a spare weekend this autumn, make a date with the Salon du Chocolat – the highlight of the French chocolatier's calendar. This is a trade show that takes place in Paris each year, hosting gourmet chocolate-makers from around the world, some of whom arrive with extraordinary creations.
Engraved pralines, chocolate jam and even chocolate dresses and shoes are on display. But if you can't make it to Paris this October, don't worry. You can source French chocolate without setting foot out of your front door.
Using French Chocolate – Truffles
French Chocolate Truffles have a reputation as being difficult to make – and it's true: if you want to correctly temper the chocolate and attain the consistency that the French chocolatier produces, you'll have a tough time.
But you can make a simple version of French Chocolate Truffles that will be good enough to enjoy at home. And who can refuse chocolate gifts as delicious as these?
You need:
200g chocolate (choose a bar that is at least 70% cocoa)
200ml double cream (try to find the best cream available – a locally-produced, primrose-coloured cream will be more luscious and thick than boring supermarket cream)
2tbsp Tia Maria, Dark Rum, or Brandy (optional)
50g butter (unsalted, but you could try using salted and see if you prefer it)
To make the truffles:
First, chop the chocolate into fine shards, then slowly and gently melt it with the cream in a Double Boiler. (Read our article on Chocolate Techniques to learn more about this, and about Tempering.) Remove from the heat and stir in the alcohol, if you're using it.
When the chocolate is cool, cover it and place it in the fridge overnight. The next day, take the butter out of the fridge and beat it with a fork or spoon until it becomes very soft. Put the chocolate mixture (a ganache) into a food processor or large bowl and whip it for a couple of minutes.
Add the softened butter, a little at a time, and continue to whip until all of the butter is incorporated. Chill again. Optional: at this stage, you could chill for a few more hours and repeat the whipping to lighten the mixture even more.
When the chocolate is cool enough to shape, dust your hands with cocoa and (working quickly) roll into balls, then put them onto greaseproof paper. Finally, coat the truffles with melted chocolate (see Chocolate Techniques), cocoa, or finely-grated chocolate. Keep in the fridge and soften at room temperature just slightly before serving.
You might also like...