Uses of Chocolate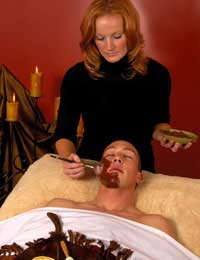 There are many uses for chocolate; it is not just designed for eating as a confectionary. Before it was discovered by the Spanish and brought to Europe and developed into the chocolate we know today it had many and varied
uses.
Cocoa as a Currency
Cocoa beans were used as a monetary unit in Central America, used to pay taxes to the Aztecs in 1000AD.
An early explorer visiting Central America discovered that:
Four cocoa beans could buy a pumpkin
Ten cocoa beans could buy a rabbit
One hundred cocoa beans would buy a slave
Chocolate as a Remedy
In 18th Century England, a chocolaty drink was used to prevent and cure stomach aches. In Central America it was used to build up resistance and fight fatigue. The Emperor Montezuma once declared that "the divine drink…"permits a man to walk for a whole day without food." For a natural face pack chockfull of antioxidants, melt a block of dark chocolate and apply it to your face. Leave it for 15 minutes to harden. It is said to aid skin complexion.
Chocolate as a Culinary Ingredient
Chocolate isn't just used in confectionary, drinks and sweet spreads. You can use it in the kitchen and add it to a variety of savoury dishes. Why not try making a delicious chocolate sauce to serve with turkey, game or even strawberries? It can also be mixed into a sauce with red wine and chilli and added to red meat dishes and chilli con carne.
You can also use chocolate to make interesting additions to drinks. For a tasty chocolate martini, combine 3tbsp vodka, 1tsp white creme de cacao and 1/2 tsp white creme de menthe in a shaker with 3 ice cubes. Shake the ingredients and pour them into a chilled martini glass.
For a non-alcoholic chocolate cream soda, mix 5tbsp milk and 2tbsp chocolate syrup in a tall glass of soda water or lemonade. Add 2 scoops of chocolate ice cream, then mix and serve.
Chocolate at Celebrations
Chocolate is widely used at celebrations, such as weddings as an attractive, edible sculpture. It can also be used in a chocolate fountain, where a continuous flow of chocolate falls from a tap. Party guests can dip treats into the chocolate fountain such a marshmallow and meringue pieces (as in chocolate fondue). It is also possible to fill a glass with the chocolate from the fountain and drink it.
Other Uses for Chocolate
Some more unusual uses for chocolate have been documented in the past. It can be melted and used as an interesting item of clothing such as a dress or corset (if applied thickly). It can be moulded into a number of shapes, such as an edible model of a house.
Chocolate has many versatile uses that fall outside of the traditional confectionary boundaries. In the past it has been used as a medicinal remedy and a currency; now it is sometimes moulded into large chocolate sculptures or melted into chocolate fountains, or even used in extreme examples of fashion wear.
You might also like...
It gives lots of information about chocolate.
keerthu
- 2-Jan-15 @ 8:57 AM
Good information about chocolate.
m&m
- 17-Mar-11 @ 4:03 AM