Vegetarian & Vegan Chocolate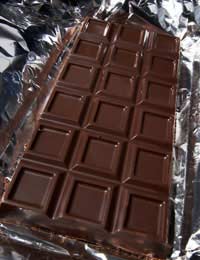 A lot of milk chocolate is made with whey powder. Whey powder is a by-product from the cheese making process. Many cheeses are made using animal rennet so it is not always guaranteed that chocolate containing whey powder is vegetarian.
Rennet
Rennet is a natural complex of enzymes produced in any young mammal's stomach (such as a calf's) designed to digest the mother's milk. Rennet helps to coagulate the milk, causing it to separate into solids (curds) and liquid (whey). Rennet is mainly used in the cheese making industry, to separate the milk into curds and whey specifically to make hard cheese.
Vegetable Rennet
Many plants have coagulating properties similar to calves' stomachs. Examples include fig tree bark, nettles, thistles and mallow. However, throughout the world there is no industrial production for vegetable rennet.
Chocolate that contains whey powder is often not guaranteed to be vegetarian, as it could have been produced via non-vegetarian methods. However any chocolate, which does not have whey powder listed as an ingredient will also be vegetarian.
Vegan Chocolate
Chocolate that contains any product derived from an animal is not suitable for vegans, so milk chocolate (regardless of its whey powder content) will not be appropriate for a vegan.Vegans have several options regarding their chocolate consumption. The first is to avoid all chocolate containing dairy products, for example milk chocolate, and simply eat dark chocolate. Good quality cocoa powder and most 70% cocoa solids dark chocolates are normally vegan. The second is to use alternatives that use rice or soymilk as a substitute for dairy milk. The third is to use an alternative to chocolate, such as carob.
Carob
Carob is considered to be a healthy alternative to chocolate. The carob tree is native to Mediterranean areas and has been used in cooking for over 20 years. Carob is free from the (sometimes addictive) stimulants present in chocolate, such as caffeine and theobromine.
Carob is also naturally sweet and therefore carob products contain less sugar than chocolate products. Carob is also free from phenylethylamine (which is also present in chocolate), which can trigger migraines.
Carob contains vitamins A, B, B2, B3 and D. It is high in calcium, phosphorus, potassium and magnesium and also contains iron, manganese, barium, copper and nickel.
Cooking with Carob
You can also use carob powder as an alternative to chocolate in cooking, in recipes such as chocolate cakes, desserts and hot drinks. Make sure you sieve carob before use to add air when using in baking.
Dairy-Free Chocolate
There are several varieties of dairy-free chocolate on the market that tastes very similar to milk chocolate. Manufacturers use rice or soy milk instead of cows' milk, so you get all the taste of milk chocolate without the addition of dairy products. The quality of such dairy-free chocolates is superb and is a good match for milk chocolate. Dairy-free chocolate can also include plain chocolate, which will normally not contain any dairy products such as milk, whey powder or butter.
Extra Alternatives
Vegetarians, vegans and meat eaters can also enjoy eating raw cacao nibs, for that natural chocolate fix. Made from the raw bean of the chocolate tree, this is as natural and simple (and vegan) as your chocolate cravings can get. It's also possible to purchase chocolate liqueur (100% cacao mass), for the ultimate chocolate hit.
Vegetarian chocolate can take many forms, including dark chocolate and chocolate with alternatives to dairy, such as rice and soymilk. While many chocolates state that they are vegetarian on the label, it is difficult to guarantee that the chocolate is vegetarian if it contains whey powder.
You might also like...