Easter Eggs and Chocolate Easter Cake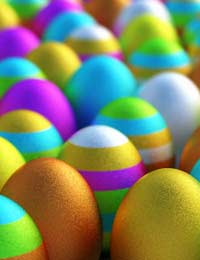 "How do you eat yours? "As a nation, we took that catchphrase to our hearts when it was introduced some years ago, demonstrating our love for chocolate and any excuse to eat it. And, after Christmas, Easter is probably the biggest excuse we have!
But what do chocolate eggs have to do with Easter? well, the link isn't quite as obscure as it might appear at first glance.
History of the Easter egg
Eostre was the Saxon goddess of dawn who was honoured in pagan festivals celebrating the Spring equinox. The Christian church recalls the death and celebrates the resurrection of Jesus during the Spring and eventually this time of remembrance took on the name Easter.
Spring is, of course, when there is an abundance of new life in nature and what better way to show this than with an egg. Eggs were chosen as a symbol of newness and rebirth, and dyed eggs were eaten at feasts all over the middle and far eastern world centuries ago. This tradition spread westward and as long ago as the seventeenth century, as well as dyed eggs, gifts of papier-mâché eggs were being made and exchanged. Although they didn't quite compare with the fabulous jewel-encrusted eggs made for royalty by the master craftsman, Faberge, in the late nineteenth century!
The first small solid chocolate Easter eggs originated in Europe, while Cadbury's made the first mass-produced eggs in England in 1873. And now chocolate Easter eggs come in all sizes and styles from the simplest milk chocolate egg containing a bag of buttons to the extra-thick dark chocolate shell, intricately decorated with swirls of yet more chocolate and containing just a few tempting decadent cream and alcohol truffles.
Make an Easter Egg
To make your own personalised Easter egg, first find yourself an Easter egg mould – available from cookshop and over the internet. Then choose the chocolate. It can be dark, milk or white as you prefer but should be of good quality.
Melt the chocolate carefully. A thermometer is very helpful at this stage as, ideally, you want the chocolate to melt at between 29 and 31 degrees. This is called tempering and the final shine and consistency of the chocolate will depend on it being done properly. When it's reached that temperature remove from the source of heat and stir well to help any remaining lumps to melt.
Ladle a spoonful of melted chocolate into the mould. Tip the mould from side to side and to and fro to spread the chocolate all over. You want to try and get and even layer. When one layer is completed, allow to set slightly and then repeat another once or twice. Use a pastry brush to help spread it evenly.
Before the chocolate sets too firm, cut around the edge of the mould with a sharp knife so that the chocolate shell is left with a clean edge. Repeat this process with the other half of the egg mould. Leave to set until completely firm. Turn out of the moulds. You may like to place a small gift – wrapped in foil or film – in the egg before placing the two halves together and wrapping carefully and decoratively.
And finally a recipe for a chocolate fudge cake for the centrepiece of your Easter tea table.
Easter Egg Cake
8 oz self-raising flour
1 oz cocoa
4 oz margarine
8 oz caster sugar
3 eggs
6 oz can evaporated milk
1 teaspoon vanilla essence
Filling and topping
8 oz icing sugar
3 oz butter
3 oz light soft brown sugar
2 tablespoons cocoa
3 tablespoons milk
Packet of mini eggs
Preheat the oven to 170oC, gas mark 3. Grease and line a deep round 8" cake tin. Sieve together the flour and cocoa.
Cream together the margarine and sugar until light and fluffy. Add the beaten egg a little at a time. Stir in the evaporated milk and vanilla essence and fold in the sieved flour. Pour into the tin and bake for about 1¼ hours or until well-risen. A skewer inserted in the centre should come out clean.
Turn out of the tin and leave on a cooling rack to cool. When the cake has cooled, cut in half before preparing the icing.
Sieve the icing sugar. Then place the butter, sugar, cocoa and milk in a saucepan and heat gently until dissolved. Then boil rapidly for about 1 minute so that the icing thickens slightly. Don't over-boil or it will become too hard to use.
Quickly beat in the sieved icing sugar until glossy. Spread over both layers. Place one on top of the other and decorate the top with mini-eggs.
You might also like...