Making Chocolate Desserts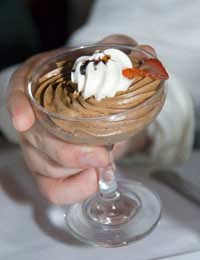 Where would we be without a chocolate dessert? From ice cream to sponge cake cheesecake or tart, chocolate is a constant theme in the British pudding. Even the fussiest eater can't resist a chocolate dessert.
The following is a selection of recipes for making delicious chocolate deserts. These recipes include cakes, biscuits, tarts and mousses.
Chocolate Cheesecake
Serves 6-8
This is a fantastic chocolate cheesecake. You will need:
Filling
3½oz (100g) chocolate
1 x 250g tub mascarpone
1 x 200g tub fromage frais
2 large free range eggs
1½oz (40g) caster sugar
Base
4oz (110g) sweet oat biscuits
1oz (25g) butter, melted
To Serve
Crème fraîche or cream
1 level tsp cocoa powder
Pre-heat the oven togas mark 6, 400°F (200°C). You will also need a 7in (18cm) cake tin, preferably 3in (7.5cm) deep.
First of all, make the base of the cheesecake by roughly crushing the biscuits with a rolling pin. Tip the crushed biscuit crumbs into a bowl, and then add the melted butter and mix together before squashing it down into the base of the cake tin, pressing firmly all over. Then place the tin in the oven and pre-bake the crust for 20 minutes. Remove it and let it cool while you make the filling. Reduce the oven temperature togas mark 2, 300°F (150°C).
To make the filling, heat 2in (5cm) of water in a saucepan, and break the chocolate into small squares. As soon as the water is boiling, place the chocolate in a bowl and remove the pan from the heat. Place the bowl on top of the saucepan until the chocolate melts.
Spoon the mascarpone and fromage frais into a large bowl and whisk them together until smooth. Add the eggs and sugar and whisk again before adding the melted chocolate.Pour the mixture into the tin, smoothing it out with the back of a spoon, then place it on the centre shelf of the oven and bake for 1¼ hours. After that, turn the oven off but leave the cheesecake inside until it's completely cold.
To serve the cheesecake, dust the surface with a sprinkling of cocoa powder and serve in slices with crème fraîche or cream.
Chocolate Mousse
Serves 6
This is a classic chocolate mousse recipe. You will need:
7oz (200g) dark chocolate, broken into pieces
3 large free range eggs, separated
1½oz (40g) golden caster sugar
A serving idea - Whipped Cream. You will also need 6 ramekins, or 6 individual serving glasses. To start with, place the broken chocolate in a large bowl placed over a saucepan of boiled (but not boiling) water, to melt the chocolate. Once melted, stir the chocolate until it's smooth and glossy, and then let it cool before stirring in the egg yolks. Stir again until it's thoroughly mixed.
Next, whisk the egg whites, then slowly mix in the sugar, then whisk again until the whites are glossy. Then carefully fold in the egg whites into the chocolate mixture a little at a time. Then divide the mousse between the ramekins or glasses and cover with Clingfilm. Chill for 2 hours. Serve the mousse with whipped cream.
Chocolate Brownies
Makes 15
You will need:
2oz (50g) dark chocolate, broken into pieces
4oz (110g) butter
2 large free range eggs, beaten
8oz (225g) Demerara sugar
2oz (50g) plain flour
1 level tsp baking powder
¼ level tsp salt
You will also need a non-stick baking tin measuring roughly 10x6in (25.5x15cm) and 1in (2.5cm) deep, greased lightly and lined with silicone paper.
To start with, pre-heat the oven to gas mark 4, 350°F (180°C),then put the chocolate and butter together in a heatproof bowl fitted over a saucepan of boiled (but not boiling) water to melt the chocolate. Once the mixture has melted, beat it until it's smooth. Then stir in the other ingredients until thoroughly mixed through.
Then spread the mixture into the tin and bake for 30 minutes, then leave to cool for 10 minutes before cutting into squares and transferring to a wire rack.Chocolate is a fantastic ingredient for use in desserts and will be heartily enjoyed by all of your guests.
Chocolate Expert is sponsored by Purely Energy, who have funded a lot of our content. If you are looking for a low cost business energy supplier, take a look at their website.
CHOCOLATE EXPERT IS FOR SALE.
This website is for sale [more info].
You might also like...