Chocolate as a Snack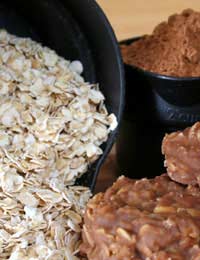 Chocolate can be used to make a variety of snack-based treats. Not only can chocolate be used to cover biscuits such as digestives, but the wide range of chocolate bars, cookies and flapjacks make a delicious mid-morning or late afternoon snack.
What's more, chocolate can be used in a variety of other ways to make you a tasty snack. Your chocolate snack needn't be fatty, like many of the commercially made chocolate snack bars. You can make your own bar using a mixture of oats, raisins and chocolate to form a healthy chocolate bar to enjoy at any time of the day.
Make Your Own Chocolate Bar
Why not try this simple recipe to make your own chocolate bar?You will need:
1 packet of good quality milk, white or dark chocolate
A handful of good quality oats (including porridge oats)
2 tbsp seedless raisins
1 tbsp peanut butter (crunchy or smooth)
2 tbsp warm water (preferably boiled, and allowed to cool)
Simply combine all the ingredients together in a bowl until they are thoroughly mixed. Then empty out the mixture onto a clean, dry surface and mould the mixture into a bar. Place the bar in a Tupperware container or freezer bag and place in the freezer until it is firm (but still pliable). After several hours, remove the bar and cut it into your desired size. Then place each bar into an individual container or freezer bag and return to the freezer. Remove a couple of hours before you want to eat it.
You can also buy a delicious and nutritious chocolate and hazelnut spread and enjoy it on hot muffins, crumpets and toast. However you can also make a more indulgent snack using chocolate. Why not make your own chocolate biscuits and enjoy them warm with a nice cup of tea in the afternoon?To make about 40 small biscuits you will need:
150g (5oz) caster sugar
150g (5oz) butter or margarine
5 tbsp dairy or soya milk
300g (10 oz) plain flour
1 tsp vanilla extract
A large block of chocolate, broken into pieces
Making these biscuits is easy. Simply preheat your oven to 200C/400F. Mix together the sugar and butter (or margarine). Add the milk and vanilla and then the flour. Mix the ingredients together until you have a pliable dough (if it's too wet, add more flour, too dry, add more water).
Turn out the mixture on to a floured board and roll it to 1cm thickness. Then cut it into biscuits using cookie cutters or an upturned glass. Lay the biscuits on greased baking sheets and bake for about 10 minutes. Remove the biscuits from the oven and leave to cool on a wire rack. In the meantime, melt the chocolate pieces in a bowl over a saucepan of boiled water. When the biscuits are cool, dip them in the melted chocolate and leave them to set on kitchen paper before eating.
Chocolate is a fantastic ingredient to use in a variety of snacks, from healthy energy boosters to more indulgent treats. Chocolate snacks are best enjoyed as part of a varied diet.
You might also like...